TURMERIC ROOT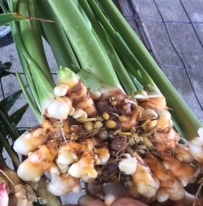 Turmeric is a wonder-root! It is a powerful anti-inflammatory that aids in digestion and body aches and pains. In Southeast Asia, it is woven into the daily diet to keep folks in good health. To unleash all its goodness, it should always be eaten with some black pepper and a healthy fat (olive oil, coconut oil, butter or ghee, etc). Slice it thinly or mince it and add it to smoothies, soups, stir-fries, and curries. Make a winter tonic of Fire Cider or a delicious pot of Golden Milk (see recipes below).
This is a very common spice used in Indian cuisine to give curry its beautiful yellow coloring. It stains very easily, so make sure not to get it on your clothes. Its taste is described as mild peppery to warm and bitter while its fragrance is sweet and pleasant, slightly reminiscent of a mix of orange-zest and ginger to which it is related. Once harvested, the root is boiled, dried, and ground to prepare distinctive bright yellow spice powder.


STORAGE: Turmeric roots keep in a bag in your fridge for several weeks. To preserve it for the winter, slice it thinly and add to honey and leave it on your counter. It will keep for months this way. Or, you can always freeze it for a year or longer.
RECIPE: Fire Cider adapted from Rosemary Gladstar
Makes 1 quart.
Fire cider is a vinegar infusion that helps support the immune system during the colder months of the year. Every year around this time, we make a big batch of fire cider. Whenever we feel a little under the weather, we take a swig and feel better straight away. It also makes wonderful gifts.
Ingredients:
- 1/2 cup fresh ginger (grated)
- 1/2 cup fresh horseradish (grated) (this can be hard to find. Sunshine Dawson of Maple Spring Gardens sells it at the Carrboro Farmers Market)
- 1 onion (chopped)
- 10 cloves garlic (crushed or chopped)
- 2 hot peppers such as Thai bird or jalapeño (chopped)
- zest from 1 lemon
- 2 tablespoons rosemary, dried (or several sprigs of fresh rosemary)
- 1 tablespoon or more fresh turmeric (grated)
- apple cider vinegar
- 1/4 cup honey (plus more to taste)
Method:
Put ginger, horseradish, onion, garlic, peppers, lemon zest, lemon juice, rosemary and turmeric in a quart canning jar. Cover with apple cider vinegar by about two inches. Use a piece of natural parchment paper or wax paper under the lid to keep the vinegar from touching the metal. Shake well. Store in a dark, cool place for one month and shake daily.
After one month, use cheesecloth to strain out the pulp, pouring the vinegar into a clean jar. Be sure to squeeze as much of the liquid goodness as you can from the pulp while straining. Add ¼ cup of honey and stir until incorporated. Taste your cider and add another ¼ cup until you reach desired sweetness. Fire cider should taste hot, spicy and sweet. It is great as a winter time tonic and as a remedy for colds and coughs. You can also use it in salad dressings, on rice, or with steamed vegetables.
RECIPE: Golden Milk from Epicurious
Makes 1-2 servings.
This is a TTCF staff favorite for chilly nights. It's delicious enough to be considered dessert yet also nourishing and a good way to stay healthy during the cooler months of the year.

Take advantage of turmeric and ginger season and freeze some of both so you can make golden milk all winter long. Double or triple the recipe so there's enough to share or save for the next day.
Ingredients:
1 cup milk of choice (coconut milk, almond milk, or cow's milk)
1 3-inch cinnamon stick
1 1-inch piece turmeric, unpeeled, thinly sliced
1 ½- inch piece ginger, unpeeled, thinly sliced
1 tbsp honey
1 tbsp virgin coconut oil
¼ tsp whole black peppercorns
ground cinnamon (for serving)
Method:
Whisk milk, cinnamon stick, turmeric, ginger, honey, coconut oil, peppercorns and 1 cup water in a saucepan. Bring to a low boil. Reduce heat and simmer until flavors have come together and milk has become a beautiful golden color (about 10 minutes or longer). Strain, pour into cups and top with ground cinnamon. Can be made ahead of time and reheated before serving.
RECIPE: Cha Ca La Wong from NY Times Cooking (serves 4)
Ingredients:
2 two-inch pieces fresh turmeric, peeled and chopped
1 teaspoon ground turmeric
1 inch fresh peeled ginger, chopped
2 inches fresh peeled galangal, chopped (or substitute ginger)
1 and 1/2 pounds skinless hake fillets, cut in 2-inch squares
¼ cup Vietnamese fish sauce (nuoc mam)
3 tablespoons minced garlic
2 teaspoons chile flakes
⅓ cup lime juice
2 tablespoons sugar
4 ounces dried Vietnamese or Thai rice noodles (also called rice stick)
1 head Bibb lettuce, rinsed, trimmed, core removed, sliced thinly
¼ cup canola oil
1 teaspoon salt
1 medium-large onion, sliced thin vertically
1 and 1/2 bunches scallions, trimmed and chopped
1 bunch dill, stems discarded, fronds coarsely chopped
½ cup each cilantro leaves, mint leaves and Thai basil
¼ cup chopped roasted salted peanuts
¼ cup crisp fried shallots (sold in jars in Southeast Asian stores), or canned fried onions
Method:
Place the fresh turmeric, ground turmeric, ginger and galangal in a food processor or mini-chopper. Process until very fine, almost a paste. Transfer to a stainless-steel dish. Wash food processor immediately to prevent staining. Place the fish in a bowl. Rub mixture all over fish, remembering to wear gloves or plastic bags on your hands to avoid turmeric stains. Set aside at room temperature for 1 hour.
Combine fish sauce, 2 tablespoons of the garlic, half the chile flakes, the lime juice, sugar and 1/2 cup cold water in a small bowl. Stir well. Refrigerate. Place noodles in another bowl, cover with warm water and set aside 10 minutes until softened.
Bring 3 quarts of water to a boil, drain noodles and add to boiling water. Cook 1 minute, then drain.
Spread lettuce on a serving platter. Spread noodles over lettuce. Cover lightly with a sheet of foil or plastic wrap.
Place oil in a large nonstick or well-seasoned cast-iron skillet and heat to a high temperature. Add fish pieces. When seared on one side, 1 minute or so, turn to sear other side, sprinkle with salt and remaining chile flakes and cook through, another minute or two. Remove to another platter. Add onions to pan and reduce heat to medium. When onions start to brown, add remaining garlic, stir, and add scallions. Stir again. Tuck fish pieces back into the pan and add the dill. Cook about 1 minute, just enough to warm fish. Remove pan from heat.
Spread contents of the pan, including all the oil, on noodles. Scatter herbs on top, then toss on peanuts and fried shallots. Serve with sauce on the side.
MORE RECIPES:
Turmeric Root Curry with Green Peas