TOSCANO (DINO) KALE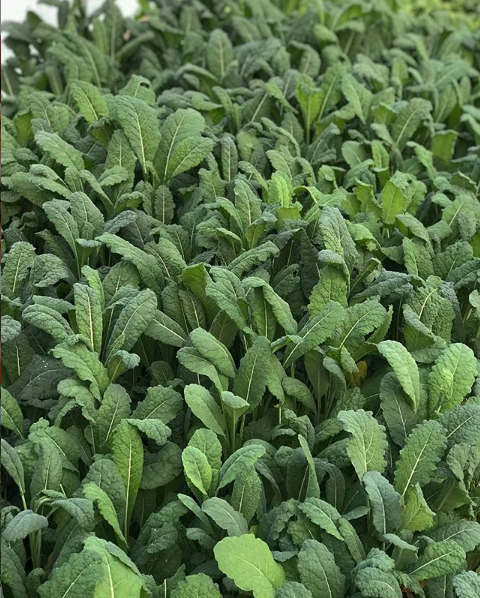 Photo Credit: Tha Dah
Kale has been very popular in the local food scene for a long while now. So much so, that many people have overlooked the mighty collard. For those who just love greens, they'll use kale and collards interchangeably. For true collard lovers, they would never cook kale in place of collards.I happen to love both and I love them in part because they are different. I do often use them interchangeably because that's how I cook---I use whatever I have on hand. Kale and Collards are close relatives and are both packed with Vitamins A and C. They are both cold tolerant and often improve in flavor after the first frost (they become sweeter).
STORAGE: Keeping kale fresh is all about avoiding excess moisture. Wrap an unwashed bunch of kale in a layer of paper towels and put it in a plastic bag. Stored like this in the crisper drawer of your fridge, kale should stay fresh for a week or more.
RECIPE: Kale and Black Bean Tacos with Chimichurri by Emily Han of thekitchn.com
Ingredients:
For the chimichurri (makes about 1 cup)
3 cloves garlic, peeled
1 medium shallot, peeled
1 cup firmly packed flat-leaf parsley, large stems removed
2 tablespoons fresh oregano leaves (can substitute 2 teaspoons dried)
1/4 cup plus 2 tablespoons extra virgin olive oil
2 tablespoons red wine vinegar
1 tablespoon freshly squeezed lemon juice
1/2 teaspoon kosher salt
Freshly ground black pepper to taste
Crushed red pepper to taste (I like using Aleppo pepper)
For the tacos
8 cups kale, stems removed and chopped
2 tablespoons water
1 (15-ounce) can black beans, rinsed and drained (or 1 1/2 cups cooked)
8 corn tortillas
2 avocados, chopped just before serving
Pumpkin seeds for garnish
Method:
· Using a food processor, roughly chop the garlic and shallot. Add the parsley and oregano, and pulse until finely chopped but not puréed. (Alternatively, you can finely chop the ingredients by hand.) Transfer the mixture to a bowl and stir in the olive oil, vinegar, lemon juice, salt, black pepper, and red pepper to taste. Let stand at room temperature for at least 20 minutes, or cover and refrigerate up to 3 days.
· Skim 2 tablespoons of oil off the top of the chimichurri and heat it in a large skillet over medium-high heat. Add the kale and water, and toss to combine. Cover and cook for 1 minute. Uncover, add the drained beans, and cook for another minute or so until the kale is tender but still bright and the beans are heated through. Stir in 1/3 cup of chimichurri.
· To assemble the tacos, warm the tortillas, fill them with kale and black beans, and top with avocado. Garnish with pumpkin seeds and additional chimichurri, if desired.
Leftover chimichurri: This recipe makes more chimichurri than you will probably need for the tacos. For thoughts on how to use it, check out these 5 Ways to Use Chimichurri Sauce.
MORE RECIPES: