Thai Chili (Hot)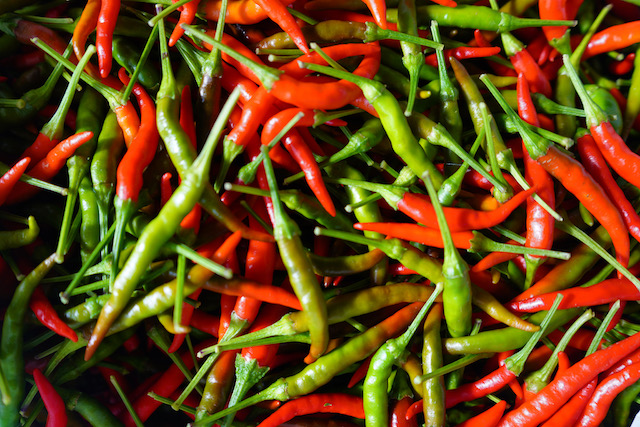 Photo by Dahwah
Thai chili pepper plants fill many beds in the fields of TTCF, beginning as seedlings in April and ripening in mid-August. TTCF farmers love this super spicy pepper and eat it with almost every meal. They save the seed of these peppers each year and use them for planting the next year. In early fall, the greenhouse at TTCF starts to fill with trays of peppers drying in the sun to preserve them for eating throughout the rest of the year. Use these peppers to spice up sauces, curries, soups, and stir-frys. These are especially delicious in a stir-fry with water spinach. Simply slice two peppers thinly and toss them in just before turning off the heat of stir-fired water spinach (or any greens of your choice). The farmers also love to use them in a green curry like the recipe below.
STORAGE: TTCF farmers recommend storing Thai chilis in a paper bag in your fridge. Don't wash them until just before you use them in order to extend their shelf life. If you don't plan to use them within a week or two, you can freeze them. Wash the peppers and remove the stems, then place them in a sealed plastic bag in your freezer, making sure they are totally dry before doing so to prevent icing up. Alternatively, you can dry the chilis using your oven or a dehydrator. In optimal conditions, dried chilis can store for years!
RECIPE: TTCF Farmers' Thai Chili Sauce (serves 1-2)
Grind into paste using mortar and pestle or blend in a food processor:
3 cloves garlic
2 Thai chilis (add more or less depending on desired spice level)
Add to:
1/2 shallot (minced)
Juice of 1 lime
1 handful of cilantro
1 heaping Tablespoon of sugar
1 Tbs of fish sauce
Mix ingredients well. This spicy sauce works well as a dipping sauce for many different things, but is especially good with as a sauce for chicken, pork, fish, and shrimp -- especially if it is grilled or deep fried. You can also try it with tofu or as a dipping sauce for grilled or fried veggies.
RECIPE: Classic Thai Green Curry adapted from Joshua Weissman based on TTCF farmers' recommendations.
Ingredients:
Green Curry Paste:
1 tsp. turmeric powder
2 to 9 Thai chilies (depending on your desired spice level), thinly sliced
2 small shallots, finely chopped
2 lemongrass stalk (tough end and leaves removed and mashed with the back of a chef's knife), rough chopped
2-3 inch piece of Galangal, finely chopped
2-3 inch piece of fresh ginger
3 kaffir lime leaves, chiffonade
7 cloves garlic
4 springs cilantro with stems
zest of 1 lime
1/2 teaspoon (4g) dried Thai shrimp paste (optional)
Curry:
2 tablespoons (28g) oil
All of the green curry paste
5 cloves garlic, finely chopped
3/4 cup (177ml) chicken stock
13.5oz (400ml) full fat coconut milk
2 tablespoons (30ml) fish sauce
1 tablespoon (17g) palm sugar
3 kaffir lime leaves
3/4 lb. (340g) chicken thigh, 1" cubes
1 cup green pepper
1 cup mushrooms, chopped
2 Japanese eggplants, slice ½" (or about 1-2 cups)
1/2 bunch Thai basil leaves
juice of 1 lime
steamed rice, for serving
fried shallots, for garnish
Thai basil, for garnish
lime wedges, for serving
Method:
Green Curry Paste:
1. In a large mortar and pestle, add spices, grind those until you get a powder, followed by your Thai chilies, and grind those into a paste. Next, add your galangal and ginger and keep grinding. (Note: use your grinder to press it along the wall as you gently twist your pestle. You can also use a food processor or blender if you do not have a mortar and pestle.)
2. Add lemongrass and grind until in blends into the paste, about 3 minutes. Next, grind in your kefir lime till smooth, followed by cilantro until soft, grind shallots until smooth, next grind garlic until smooth, the zest of one lime, and finally shrimp paste, blending all that.
Curry:
1. In a medium-size pot, add oil, heat that over medium heat until hot, then add all of your curry paste. Cook it down, stirring often until it is relatively dried out, about 3 to 4 minutes; then add garlic, let it cook for 25 seconds or until fragrant, add your chicken stock, and stir that to dissolve the curry paste.
2. Add sugar and fish sauce and stir until dissolved; then add coconut milk and kaffir lime leaves, and bring it to a light simmer, and reduce the heat to low. Blend with a hand blender until as smooth as you like.
3. Add in your chicken thigh, stir that, and simmer for 7 to 8 minutes or until the chicken is cooked through.
4. Add eggplant, mushrooms, and pepper and simmer for four minutes or until soft.
5. Season it to taste with salt, lime juice, additional fish sauce, and palm sugar if you feel like it needs it—steep two springs of Thai Basil in the hot curry to release some of that flavor.
6. Serve with white rice, garnish with fried shallots and fresh Thai basil leaves and serve with lime wedges.
Note:
If you want to try a much less spicy version of this curry, leave the chilis out of the curry paste. Then slice 1-2 chilis thinly and toss them in to the curry at the very end. Grinding up the chilis actually intensifies their heat!
Also, you can mix and match any seasonal veggies of your choice in place of the eggplant, mushrooms, green pepper.
MORE RECIPES:
Healthy Thai Turkey Lettuce Wraps (or adapt this recipe and make them vegan)
Pad Kra Pao (Holy Basil Stir Fry)
15 Minute Thai Basil Tofu Stir Fry (vegetarian Pad Kra Pao)