SUMMER SQUASH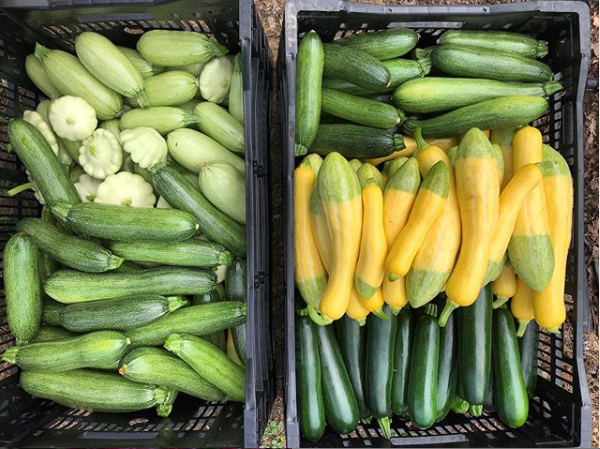 Credit: Thadah Wah
One of the best things about summer squash is that it is so versatile in the kitchen. Summer squash can be roasted or grilled at a high temperature, made into quick pickles, or seared on the stovetop. It can also be used for squash "noodles" or made into a squash gratin. Try it in a pasta sauce, pureed into a spring soup, made into fritters, or as an ingredient in a coconut curry (see recipe suggestions below).
RECIPE: Summer Squash Coconut Curry (4-6 servings) Adapted from David Tanis
Feel free to add cooked chickpeas, shellfish or chicken to this if you're feeling like something more substantial. And add other vegetables to it too! Kale, snap peas, carrots, turnips, and cauliflower would all be great added in and cooked until tender.
Ingredients:
•coconut oil
1 onion, chopped
salt and pepper
1 teaspoon grated garlic
1 tablespoon grated fresh ginger
1 hot chile, finely chopped (optional)
1 tbsp ground turmeric
1 tbsp fish sauce or light soy sauce
zest and juice of 1 lime
1 can full fat coconut milk (about 13.5 oz)
2 lbs summer squash, cut into 1 inch pieces
1 cup other vegetable or mixed vegetables (kale, snap peas, carrots, turnips, cauliflower), cut into 1 inch pieces
fresh herbs (mint, basil, or cilantro), chopped for garnish
Method:
Melt 2 tbsp coconut oil in a large, heavy saucepan over medium high heat. Add onion, season with salt and pepper and cook until softened without browning. About 5 minutes. Add garlic, ginger, chile, turmeric, fish sauce or soy sauce and lime zest and juice, stir, and cook for an additional minute. Add coconut milk, bring to a simmer and cook until fragrant, 1 to 2 minutes. Add summer squash and other vegetables, if using, and cook gently until just tender but still firm, about 5-7 minutes more. Turn off the heat. Garnish with fresh herbs and serve with rice.
RECIPE: Summer Squash Fritters with Garlic Dipping Sauce from NY Times Cooking
Ingredients:

For the Garlic Dipping Sauce:
20 garlic cloves, peeled (about 2 heads)
Extra-virgin olive oil
1 cup mayonnaise
3 tablespoons lemon juice
1 teaspoon kosher salt
¼ teaspoon ground black pepper
¼ cup chives, minced
For the Fritters:
1 ¼ cups all-purpose flour
¾ cup shredded white Cheddar
1 teaspoon kosher salt
1 teaspoon ground black pepper
1 teaspoon garlic powder
2 large eggs
¾ cup cold beer
1 cup grated zucchini (about one 6- to 7-ounce zucchini), drained on paper towels 15 minutes
1 cup grated yellow squash (about one 6-to 7-ounce squash), drained on paper towels 15 minutes
1 small yellow onion, halved and thinly sliced
½ cup canola oil, for frying
Method:
Prepare the Dipping Sauce:
Heat oven to 375 degrees, put garlic cloves in a small baking dish and add enough olive oil to cover. Roast until garlic is soft and golden, about 30 minutes. Cool.
Drain garlic, reserving oil. Transfer to a food processor, add 1 tablespoon reserved oil and the mayonnaise, lemon juice, salt and pepper and purée. Transfer to a bowl and stir in chives. Use remaining oil for another purpose.
Prepare the Fritters:
Combine flour, Cheddar, salt, pepper and garlic powder in a large bowl. In a separate bowl, gently whisk eggs with beer. Pour egg mixture into flour mixture and stir until combined. Stir in zucchini, yellow squash and onion.
Heat canola oil in a large heavy-bottomed skillet over medium-high heat. Drop about 1 tablespoon of batter into the oil per fritter and fry 6 fritters at a time until golden-brown, 2 to 3 minutes a side. Remove to paper towels to drain. Serve hot, with the sauce on the side.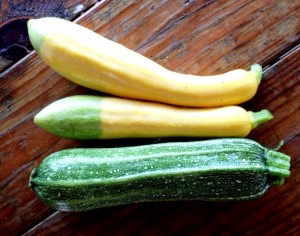 MORE RECIPES:
Cumin-Scented Summer Squash Salad