SUGAR SNAP PEAS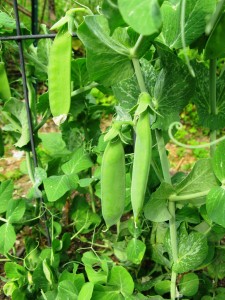 Who doesn't love the sweet flavor and crisp texture of a sugar snap pea? Unlike English peas, the entire pod is meant to be eaten. However, be sure to snap the corners off or cut them off with a knife and pull out the strings before cooking the sugar snap peas. This classic springtime treat is a good source of vitamin C and complex carbohydrates and is delicious stir-fried, chopped up in a salad, or even eaten as a snack on the go!
STORAGE: Store your unwashed sugar snap peas in a plastic container in the fridge for 3-5 days. Alternatively, you can easily freeze sugar snap peas for up to a year!
RECIPE: Kale and Sugar Snap Pea Salad by Mark Bittman
Ingredients:

FOR THE DRESSING
¾ cup canola oil
½ cup peeled, chopped ginger
¼ cup miso paste
½ cup rice vinegar, or as needed
Finely grated zest and juice of 2 lemons or limes
¼ cup sugar, or as needed
Coarse salt and black pepper
FOR THE SALAD
2 tablespoons sugar
6 to 8 dried apricots
1 medium bunch kale (Tuscan, red Russian, Winterbor or lacinato), coarse stems removed and discarded, roughly chopped
2 cups sugar snap peas, stemmed
4 ounces feta cheese, crumbled
¼ cup almonds, toasted and coarsely chopped
2 tablespoons chopped fresh mint leaves, or as needed

Method:
Make the dressing: In a blender or food processor, combine the oil, ginger, miso, 1/2 cup vinegar, lemon or lime zest and juice, and sugar. Process for about 30 seconds to form a creamy emulsion. Season with salt and pepper to taste, and add vinegar if needed.
Make the salad: In a small saucepan over medium-low heat, combine the sugar with 1/4 cup water. Add the dried apricots and poach just until rehydrated, 2 to 3 minutes, then remove from heat.
In a serving bowl, combine the kale, snap peas and feta. Add salad dressing to taste, and toss well. Sprinkle with almonds and garnish with poached apricots. Sprinkle with mint and serve.
MORE RECIPES:
Four Ingredient Soy Glazed Sugar Snap Peas
Broken Lasagna with Parmesan and All the Peas