Radishes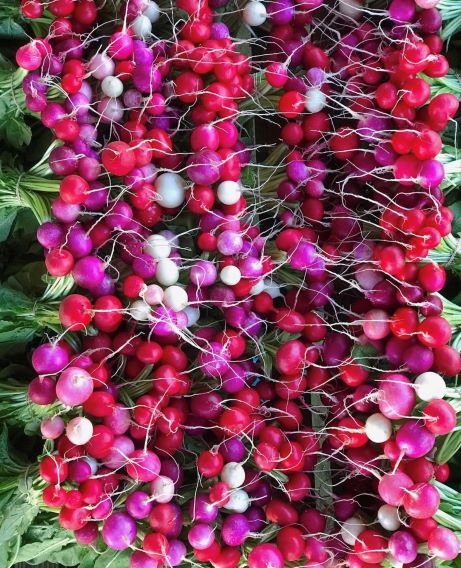 Credit: Thadah Wah
Radishes are wonderful shaved thinly and then dressed with lemon, salt, and good olive oil. They are delicious raw, sliced and added to salads for crunch and color, pickled, or simply sliced, salted and eaten with butter. If raw roots aren't your jam, try roasting them with olive oil, salt, and maybe even a drizzle of maple syrup. Salads that include these roots are wonderful with a lemony herby yogurt dressing. If you have a mandolin at home, try them shaved with pepitas. Save your radish tops for radish top pesto. Don't love raw radishes? Try them roasted -- they're sweet and velvety and you'll want to roast all your radishes all fall and winter.
STORAGE: Remove the greens from the radishes before storing them. Place them in a sealed plastic bag or air tight container with a slightly damp paper towel and store them in your refrigerator. They will remain fresh for 2-3 weeks stored this way. If you plan to use the greens, store them separately in a plastic bag and use within a few days.
RECIPE: Sweet and Sour Stir-Fried Radishes with their Greens from Martha Rose Shulman of NY Times Cooking
Serves 3-4 as a side dish.
Ingredients:
1 generous bunch large radishes, with greens (about 1 pound total), or 2 smaller bunches
1 tablespoon soy sauce
1 tablespoon rice vinegar
2 teaspoons agave nectar or honey
2 tablespoons chicken stock, vegetable stock or water
Salt and freshly ground pepper to taste
1 tablespoon peanut, canola, sunflower, or grape seed oil
2 teaspoons minced garlic
2 teaspoons minced ginger
1 bunch scallions, chopped, white and green parts separated
1/4 cup chopped cilantro
1 teaspoon cornstarch dissolved in 2 tablespoons water
Method:
Cut away greens from radishes and trim off bottoms of the stems. Wash in 2 changes of water and spin dry. Chop coarsely. Trim away tips of radishes and quarter lengthwise if large, cut in half if small.
In a small bowl or measuring cup combine soy sauce, vinegar, agave nectar or honey, and stock or water. Have all ingredients within arm's length of your burner.
Heat a 14-inch flat-bottomed wok over high heat until a drop of water evaporates within a second or two when added to the pan. Add oil to wok or pan and swirl to coat sides, then add garlic and ginger and stir-fry for no more than 10 seconds. Add white parts of scallions and stir-fry for 30 seconds to a minute. Add radish greens, salt and pepper and stir-fry for 1 to 2 minutes more, until they wilt, and stir in radishes. Stir-fry for 1/2 minute and add soy sauce mixture. Stir-fry for a minute more, then stir in cilantro and scallion greens, stir together for a few seconds, add cornstarch slurry and stir until vegetables are glazed (less than 30 seconds). Remove from heat and serve.