PEA SHOOTS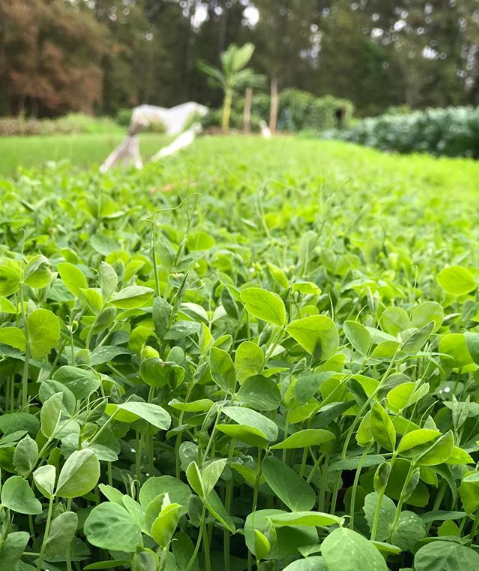 Photo Credit: Thadah Wah
Pea shoots are a late winter or early spring delicacy that you won't find in a grocery store. The farmers grow peas as a cover crop during the winter to help naturally fix nitrogen in the soil for the coming season. The pea shoots that customers receive from TTCF farmers are the delicious bonus of this regenerative practice. They have delicate leaves and a slightly sweet flavor, which is even more noticeable after a frost. Eat them raw in a salad or lightly sautéed in recipes like those shared below!
STORAGE: Store pea shoots as you would other tender greens. Do not wash the pea shoots until just before you are ready to use them. Line a clean plastic container with a paper towel. Gently layer the pea shoots in the container, making sure to use a container that is large enough so that the leaves are not jam-packed. Place another paper towel on top and close the container. Store the pea shoots in the crisper drawer of your refrigerator for 5-7 days.
RECIPE: Pea Shoots with Farfalle Pasta from NY Times Cooking
Ingredients:
2 ounces fresh pea shoots (3 cups)
1 large clove garlic
Salt to taste
3 tablespoons butter or olive oil, or a mixture
½ pound bow-tie pasta
4 ounces cremini mushrooms, sliced
1 ounce prosciutto, chopped
3 tablespoons freshly grated Parmesan cheese, plus additional cheese for the table
Freshly ground black pepper
Method:
If the pea shoots have long stems, cut them into pieces. Set aside.
Mash the garlic with a pinch of salt to form a paste. Mix with the butter or oil.
Heat a large pot of salted water for the pasta.
Heat 2 tablespoons of the garlic butter or oil in a large, heavy skillet. Add the mushrooms, and saute over medium heat for a few minutes, until the mushrooms have wilted. Stir in the prosciutto, cook another few seconds, then remove from the heat.
When the water has come to a boil, add the pasta and cook about 7 minutes, until al dente. Drain the pasta and add it to the skillet. Return the skillet to the heat.
Add the pea shoots to the skillet along with the remaining garlic butter or oil, and cook over medium heat, stirring, for a minute or two, until the pea shoots have just wilted and the ingredients are well mixed. Add the cheese, season with salt and pepper, and serve at once, offering more cheese at the table.
RECIPE: Rice Bowl with Spinach or Pea Tendrils by Martha Rose Schulman
Ingredients:
1 bulb green garlic, trimmed of stalk
2 tablespoons extra virgin olive oil
½ pound scallions, white and light green parts only, finely chopped
Salt to taste
3 pounds bunch spinach 1 1/2 pounds baby spinach, stemmed and washed; or 1 large bunch pea shoots about 1 pound, thick stalks and ends with tendrils cut away
1 tablespoon chopped flat-leaf parsley
1 tablespoon chopped fresh mint or tarragon
Freshly ground black pepper
Cooked brown rice or other grains of your choice for serving
Method:
If the garlic has formed cloves, separate them and remove the thick shells from the tender cloves. If it has not formed cloves, just remove the outside layers. Chop coarsely. You should have about 1/4 cup chopped green garlic. If using the pea shoots, sort through and discard any budding flowers or leaves and the thin ends with the tendrils. Wash thoroughly.
Heat the oil over medium heat in a large, heavy lidded skillet, and add the olive oil. Add the scallions, green garlic and a generous pinch of salt. Cook, stirring, until tender, two to four minutes. Working in batches, add the spinach or pea shoots and salt to taste. Turn up the heat, and toss with tongs until the spinach or pea shoots wilt enough to allow room for another batch. If using pea shoots, cover and steam two to four minutes. Spinach does not require covering; just toss in the pan until it wilts and is tender and fragrant. Add the parsley and mint or tarragon, season to taste with salt and pepper, and serve with brown rice or other grains of your choice.
MORE RECIPES:
Stir-fried Pea Shoots with Garlic
Simple Lemon Pasta with Parmesan & Pea Shoots