OKRA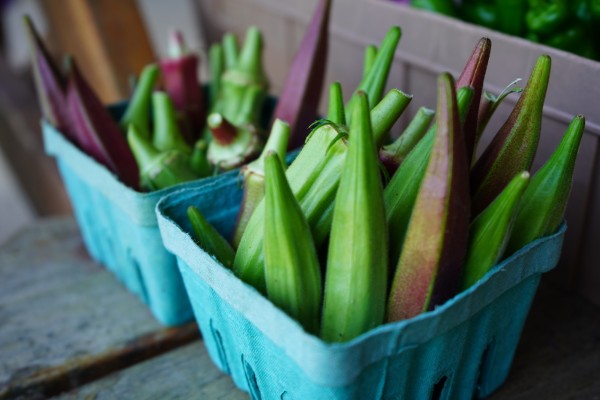 Photo Credit: Thadah Wah
For those of you who fear okra for its slime, have no fear! You only need high heat. Fresh okra that's cooked at a high temperature for less time is generally way less slimy. One CSA member throws it on the grill and another throws it in a hot skillet and cooks it until just tender with some garlic and spices. It's also wonderful roasted (see below) or made into chips. And you can always bread it with cornmeal and buttermilk and fry it like a true North Carolinian.
Don't mind the slime? You can stew okra with tomatoes or make gumbo. Or make quick pickles to enjoy or gift this fall or winter.

STORAGE: Store okra in a paper bag in your fridge for several days.
RECIPE: Roasted Okra (serves 4)
NOTE: You can also add in other vegetables to this recipe, like cherry tomatoes cut in half for color or even chopped water gourd!
Heat the oven to 400˚F. Slice a small onion into thin crescents. Cut the caps off the okra and slice in half lengthwise (do this right before cooking to minimize slime!). Combine okra and onion in a bowl and drizzle with olive oil and salt and pepper. Toss to combine and roast for 10-12 minutes or until okra is tender and the onion is just beginning to brown. Toss with chopped fresh mint or basil and serve.
RECIPE: Bhindi Masala by Zainab Shah of NY Times Cooking
2-4 Servings
Ingredients:
3 tablespoons ghee or neutral oil
1pound okra, fresh or frozen (no need to thaw), stemmed and chopped into ½-inch pieces (see Tip)
½teaspoon grated ginger or ginger paste
½teaspoon grated garlic or garlic paste
1large red onion, quartered and thinly sliced
¾teaspoon kashmiri or other red chile powder
½teaspoon ground coriander
¼teaspoon ground turmeric
1medium plum tomato, finely chopped
1¼ teaspoons fine sea salt
2 to 3tablespoons lime juice
¼teaspoon garam masala
Roti or pita (optional), for serving
Method:
In a medium (9-inch) frying pan or wok, heat 2 tablespoons ghee over medium-high for 30 to 45 seconds or until it has melted. Add okra and cook undisturbed for 5 minutes or until okra starts to brown around the edges. (Cooking okra undisturbed helps eliminate the gooeyness.) Stir once so the sides with less color can brown next, then cook for another 5 minutes or until all the okra is brown around the edges. (This may take slightly longer if using frozen okra.) Remove with a slotted spoon and set aside.
Add the remaining 1 tablespoon ghee to the same frying pan and heat over medium-high until it melts. Add ginger and garlic and stir for about 30 seconds, until the raw smell dissipates. Add onion and cook, stirring frequently, until onions begin to soften, about 3 to 5 minutes. (The onions should still have a little bite.)
Lower the heat to medium and add red chile, coriander and turmeric, and stir until the masalas are uniformly mixed with the onion, about 30 seconds. Add tomato and salt. Continue cooking on medium until tomatoes break down, about 5 minutes.
Add okra back to the pan and mix until incorporated. Sprinkle with lime juice and garam masala. Serve with roti, store-bought pita or by itself.
Note: If using fresh okra, make sure to pat it dry before chopping. This reduces the sticky texture common to okra.