NEW POTATOES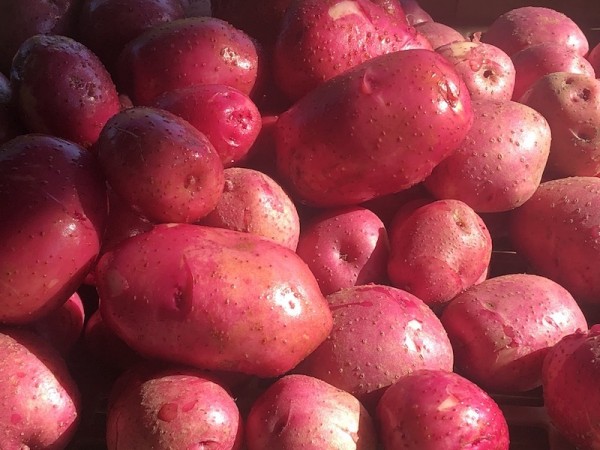 Photo credit: Betsy Jackson
New potatoes are ones that are freshly dug and eaten before they have a chance to 'cure' or develop the thicker skin that will allow them to keep at room temperature for a while. This means they may need to be refrigerated but it also means that they're far moister and sweeter and have a wonderful earthy flavor. They're great boiled in very salty water until tender and then served with plenty of butter and fresh herbs or with fresh pesto. Once boiled, they can also be roasted until crispy or fried in a skillet to make hash browns. TTCF farmers make them into all sorts of curries (see recipe below).
RECIPE: Zar Ree's Potato and Egg Curry
Peel several cloves of garlic and an onion. Chop the onion into chunks. If you have it, peel a knob of ginger and slice it. In a mortar, pound the garlic, onion, and ginger with some salt, a pinch of turmeric powder, and (if you want spice) some chili powder or dried chiles. Pound all of this into a paste. Meanwhile, hard boil some eggs and peel them. Cut your potatoes into 1 inch dice and if you have a tomato or two, dice that up too. In a heavy-bottomed pot or deep skillet, heat several tablespoons of oil over medium high heat. Fry the peeled eggs whole, gently stirring, til they have a nice fried outer coating. Set aside. Add some more oil to your pot and heat again. Add your curry paste and cook for a couple of minutes, stirring frequently. Next, add your diced potatoes, tomatoes, enough water to not quite cover the potatoes, and a generous sprinkling of salt. Put the lid on and cook at a simmer until potatoes are tender (probably about 20 minutes or so depending on how big your dice are). Add in the whole fried eggs and cook for another minute, stirring gently. Taste for salt. Serve with chopped fresh herbs (cilantro, thai basil, or regular basil work well) and rice.
NOTE: Zar Ree likes to add in meat sometimes - she says to add chopped meat or fish after you fry the curry paste.
MORE RECIPES:
Vegetable Samosas – a favorite traditional dish among TTCF farmers!