GINGER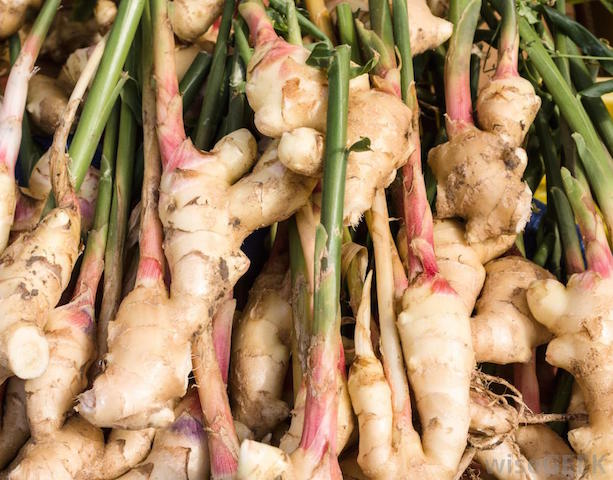 Photo credit: Thadah Wah
Depending on the season, ginger from the farm comes fresh or cured. Fresh or baby ginger has a thin skin (no need to peel!), is juicier, and has just the right balance of spice and sweetness. It is very medicinal, soothing all kinds of gastrointestinal distress, boosting the immune system, and acting as a strong anti-inflammatory agent. It's great for when you're feeling under the weather - just throw some into a smoothie, golden milk, or make ginger juice. It's also delicious added to a greens stir-fry or a pumpkin curry. When cooking with young ginger, just mince it up and be sure not to overcook it.

STORAGE:
Fresh: To store, cut the green tops off the root. Steep the tops in boiling water to make a subtle tea or add to soup broth for added flavor. Baby ginger keeps a few weeks in the fridge but also keeps well in the freezer indefinitely. To store it in the freezer, slice it into thin pieces and spread it in a single layer on a parchment covered cookie sheet. Place the tray in the freezer overnight and then transfer the frozen ginger to a freezer safe storage unit. These thin slices can be easily minced with a sharp knife when you are ready to use it.
Cured: Ginger can be stored at room temperature for a few days or in a sealed plastic bag in the crisper drawer of your fridge for a week. Or to store it longer term, you can peel it and then freeze it using the method above.
RECIPE: Vegan Coconut Ginger Black Beans by Ali Slagle
Ingredients:
2 (15-ounce) cans black beans
2 tablespoons coconut oil or extra-virgin olive oil
1 ½ teaspoons ground cumin or coriander
1 (3-inch piece) fresh ginger, peeled and finely grated (about 3 tablespoons)
1 (13-ounce) can full-fat coconut milk
½ cup plantain chips or toasted coconut flakes
1 teaspoon lime zest plus 2 tablespoons juice (from 1 lime)
Hot sauce, for serving (optional)
Method:
Rinse 1 can of black beans, and set aside. In a large saucepan, heat the coconut oil over medium. Add the cumin and half of the ginger and cook until fragrant, stirring constantly, 1 to 2 minutes. Add the rinsed black beans and the remaining whole can of black beans (including the liquid), and the coconut milk; season generously with salt and pepper.
Bring to a boil over medium-high, then reduce heat to a simmer and cook, stirring occasionally, until the beans are soft and the mixture is flavorful, 15 to 20 minutes. (If you want a thicker consistency, smash some of beans with the back of a spoon as the mixture cooks, and simmer longer.)
Meanwhile, in a small bowl, crumble the plantain chips into bite-size pieces. Add the lime zest and a few generous grinds of black pepper, and stir to combine.
Remove the beans from the heat. Stir in the remaining ginger and season with salt and pepper to taste. Stir in the lime juice a little at a time until the beans taste bright but the coconut flavor is still rich. Top with the seasoned plantain chips and serve with hot sauce for more kick.
RECIPE: Chicken and Rice Soup with Ginger and Turmeric by Alexa Wiebel
Ingredients:
3 tablespoons neutral oil, such as canola or vegetable oil
5 scallions, thinly sliced crosswise (about 3/4 cup), plus 1 to 2 scallions, thinly sliced on an angle, for garnish
5 garlic cloves, finely chopped
3 tablespoons finely chopped fresh ginger (from one 3-inch piece), plus extra julienned ginger, for garnish
4 teaspoons ground coriander
1 tablespoon ground turmeric
1 ½ cups short-grain brown rice or Arborio rice (10 ounces)
3 quarts chicken stock
3 bunches baby bok choy (about 1 pound)
1 (3- to 4-pound) chicken, wings and legs removed and reserved (this will help the chicken fit better in the pot)
Method:
In a large pot, combine the oil with 3/4 cup scallions, the garlic, finely chopped ginger, coriander and turmeric. Season with salt and pepper, and cook over medium-low, stirring occasionally, until slightly softened, about 5 minutes.
Add the rice and stir until coated. Add the chicken stock and 2 teaspoons salt, and bring to a boil over high. Meanwhile, prepare the bok choy: Trim and discard the ends, then halve crosswise, separating the leafy bok choy tops from the heftier stems. Cut the stems crosswise into 1/2-inch pieces. Set aside.
Once the stock comes to a boil, reduce the heat to medium-low and carefully add the whole chicken, then the wings and legs, adding the meat in a single layer. (If the chicken isn't fully submerged, add enough water until the meat is fully covered.) Cover the pot with a lid, leaving the lid cracked open about 1 inch, and simmer over medium-low until the chicken is cooked through, about 20 to 25 minutes. (Reduce the heat to low if necessary. You want to keep it at a low simmer to ensure the chicken stays tender.) Transfer the chicken to a large bowl.
Continue to cook the soup over medium, uncovered, until the rice is tender and the liquid starts to thicken, 20 to 25 minutes. While the rice continues to cook, shred the chicken: Once cool, discard the chicken skin and tear the meat into bite-size pieces, discarding the bones. (You should have about 3 packed cups of shredded meat.)
Stir the bok choy stems and shredded chicken into the soup, and simmer just until stems are slightly softened, 2 to 3 minutes. Stir in the leafy bok choy tops, and season to taste with salt.
Divide among bowls and serve with bowls of chile, cilantro, sliced scallions and julienned ginger, to garnish.
MORE RECIPES:
Chickpea Curry Stuffed Delicata Squash Boats