FENNEL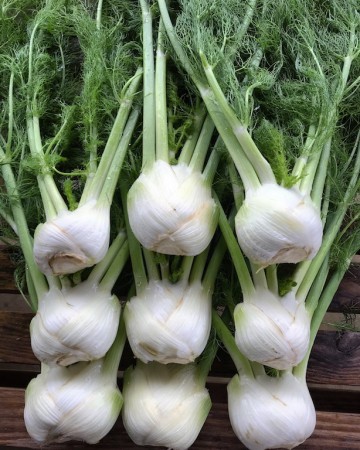 Photo credit: Thadah Wah
Fennel is a tricky vegetable. It's new to many of us and its licorice-like flavor is appealing to some and unappealing to others. Nevertheless, it's a versatile and delicious vegetable that we should all eat more of. The fronds can be added to salads and dressings, much like you'd use dill. Eat fennel bulbs raw, thinly sliced in a summer squash salad, on avocado toast, shaved with lemon and parmesan cheese or in a Greek salad. You can roast fennel and eat it on its own or toss it with lentils and a harissa dressing (like in the recipe below). Fennel is also tasty alongside lemony chicken thighs, baked in a rich gratin, or with onion on top of a pizza.

STORAGE: Store fennel bulbs in an open bag in the refrigerator for a week or two. For longer storage, remove fronds from bulb and store separately.
RECIPE: Fennel, Garlic, and Potato Soup by Martha Rose Schulman
Ingredients:
2 tablespoons extra virgin olive oil
½ large or 1 medium onion, diced
2 stalks celery, sliced
2 pounds bulb fennel, trimmed, washed and diced
1 pound Yukon gold potatoes, peeled and diced
6 garlic cloves or 1/2 head green garlic, peeled and cut in half
Salt to taste
A bouquet garni made with a bay leaf, a couple of sprigs each parsley and thyme, 1/2 teaspoon fennel seeds and 1/4 teaspoon black peppercorns, tied in cheesecloth
2 quarts water, vegetable stock or chicken stock
Freshly ground pepper
For garnish, choice of:
Chopped fresh fennel fronds
Lightly crushed fennel seeds
Paper-thin slices of fennel bulb
Garlic croutons
Shaved Parmesan
Method:
Heat the olive oil in a large, heavy soup pot or Dutch oven over medium heat and add the onion, celery, chopped fennel and a generous pinch of salt. Cook gently for about 5 to 8 minutes, until the vegetables have softened and lost some of their volume. Add the potatoes, garlic, bouquet garni and the water or stock and bring to a boil. Reduce the heat, add salt to taste, cover and simmer 45 minutes.
Remove the bouquet garni. Blend the soup until smooth with an immersion blender, or ladle into a blender, working in 1 1/2-cup batches. Remove the center from the blender cover, place a towel over the cover and pull it down tightly to prevent splashing. Blend and return to the pot. Heat through, add salt and pepper to taste and serve, or chill and serve cold, with your choice of garnishes.
MORE RECIPES:
Harissa Carrots and Fennel with Lentils
Roasted Fennel with Garlic and Herbs