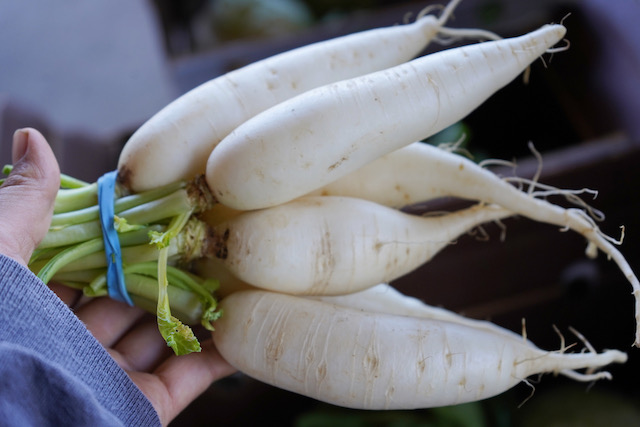 Photo Credit: Thadah Wah
Daikon radish is a white root vegetable often seen in Japanese and Chinese cuisine that resembles a big carrot. However, unlike a carrot's sweetness, daikon is spicy and tart, similar to other varieties of radish. Its pungent and sharp flavor can be enjoyed raw, pickled, or cooked. In Asian cuisine, daikon is often eaten alongside meaty dishes, and is said to aid in digestion and breakdown of oil, fatty animal protein, and dairy. Cooked daikon has a similar texture and flavor to turnips. Daikon is high in fiber, vitamin C, and folate and is a good source of minerals like potassium and magnesium. Daikon radishes also contain enzymes that help the body remove toxins through the digestive tract.

STORAGE: Store daikon radishes without their greens in an unsealed plastic bag in your fridge for up to a month.
RECIPE: One Pot Purifying Daikon Soup (Serves 4-5) from Boston Magazine.
Ingredients:
1 block of firm tofu (15-18 oz.), cut into bite-sized cubes
2 tsp sesame oil or olive oil
2 garlic cloves, minced
1-2 Tbsp ginger, grated
1 small to medium leek, sliced up to the light green section
3 large carrots, cut into small half circles
¼ daikon radish, cut into half circles
6 cups water
2 Tbsp miso paste (light or dark)
3 cups kale, chopped
For serving:
¼ daikon radish, grated
2 Tbsp scallions, chopped thin
Additional grated ginger
Directions:
Start by draining and rinsing the tofu, and ridding it of excess water. Find a guide here.
In large soup pot, heat 1 tsp of sesame oil over medium heat. Cook the garlic, ginger, and leek until fragrant. Add the carrot and sliced daikon. Toss to get a light sear on the veggies. Add the water to the pot and bring it to a boil for two minutes.
Reduce the heat to a simmer and add the tofu. Next, add the miso, one tablespoon at a time. To make sure it dissolves, place a tablespoon of paste on a ladle or spoon and hold it just under the surface of the water. Take another utensil and stir the miso paste atop the spoon to dissolve. Repeat with the remaining paste.
Last, add the kale (or another dark, leafy green) to the pot. Your soup is ready to serve when the kale wilts and turns bright green.
For serving, add raw grated daikon, chopped scallions, and additional ginger, if desired. If you are looking to add a grain to this dish, try quinoa or brown rice. Chicken or turkey, cooked ahead of time with salt and pepper, could also be used instead of tofu.
RECIPE: Miso Butter Daikon Steaks from Okonomi Kitchen
Ingredients:
1/3 daikon radish, peeled
1 tsp kombu dashi powder (can substitute for mushroom stock powder)
1 tbsp sake, optional
1 tbsp vegan butter
1 1/2 tsp soy sauce (tamari for guten free)
1 tbsp mirin (Japanese sweet rice wine)
1 tsp cane sugar
1 tbsp white miso paste
1 garlic clove, minced
scallions for garnishing
Method:
Peel and then slice daikon into 4 cm thick rounds. Score the daikon steaks on both sides. Place the daikon into a microwave safe dish and then drizzle sake on top. Rub kombu dashi powder on both sides and then cover with a lid. Microwave both sides for 2 minutes each at 600W or until daikon is mostly cooked (it will look more translucent). Be sure not to overcook.
In the meantime, add the soy sauce, mirin, sake, sugar, miso and garlic in a bowl and mix to combine.
Over high heat, add the vegan butter. Once melted, add the daikon to the pan and lightly season both sides with salt and pepper. Pan fry the daikon until you get some charring on both sides (about 1 minute on each side). Reduce heat to medium to medium low. Add the sauce mixture and let the daikon simmer in the sauce for about 30 seconds. Flip the daikon and let the other side cook in the sauce until the sauce has reduced significantly.
Remove from heat, serve on a plate and drizzle with remaining sauce. Garnish with scallions and enjoy!
MORE RECIPES:
Daikon and Braised Pork Belly from Asian Cooking Mom
Shredded Daikon Pancakes from Asian Cooking Mom