CUCUMBER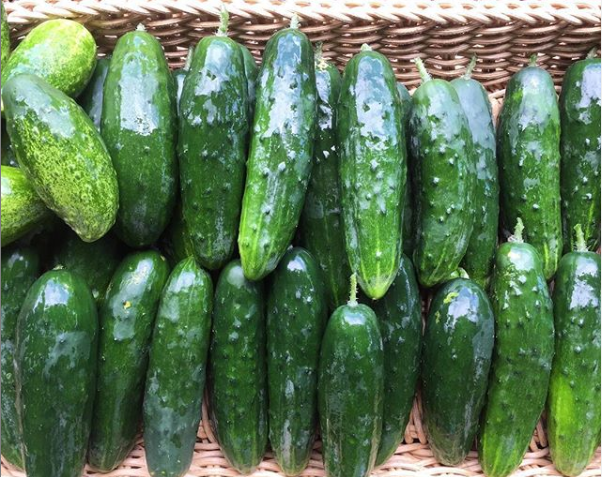 Credit: Thadah Wah
Cucumbers are 95% water, which makes them one of the most hydrating and cooling foods we can eat. They are also rich in anti-inflammatory flavonols and B vitamins, which help us to manage stress. TTCF farmers love them and grow a lot of their own special varieties for as long as they possibly can in this climate that can be tough on organically grown cucurbits.
STORAGE: To store whole cucumbers, wrap them in a tea towel or paper towel and place them in a plastic bag. Seal the bag only half-way to prevent condensation from building up inside the bag. Cucumbers prefer temperatures around 50˚F, but most fridges are much colder than that. Store the bag in the side door of your refrigerator, which is the warmest part of the refrigerator. Stored like this, cucumbers should stay fresh for at least a week, if not longer!
RECIPE: Tri Sa's Cucumber and Lemon Basil Salad
Note: Feel free to use whatever herbs you have---mint, cilantro, Italian basil, lemon basil.
Slice one large cucumber or two medium cucumbers into thin half moons or rounds.
Place in a medium bowl and sprinkle with salt and a touch of sugar.
Slice an onion thinly and heat a skillet over medium heat.
Add a couple tablespoons of olive oil to the pan and once warm, your onion.
Saute until fully tender and beginning to caramelize(should take on some color).
Meanwhile, toast a handful of peanuts and/or sesame seeds in a dry skillet over medium low heat until fragrant (careful not to burn!). Also, pick your herbs off their stems and chop.
Once onion is ready, toss with the cucumber in its bowl and add the chopped herbs and toasted peanuts or sesame seeds.
Taste for oil and salt. If you like, you can add some vinegar or lemon or lime juice.
RECIPE: TTCF Farmers' Cucumber Soup
Ingredients:
1 cucumber
1 small onion or shallot
1 tablespoon of cooking oil
Salt
2 cups of water
Method:
1. Wash the cucumber, peel the skin and slice into very thin circles.
2. Chop the shallot into small pieces.
3. Heat up the oil in a pot, add the shallot and cucumber, and saute them until soft.
4. Add salt to taste.
5. Add water to the pot and cook until warm through. The soup should be eaten warm by itself or with rice.
RECIPE: Grilled Cucumbers With Tomato-Cardamom Dressing and Mozzarella by Yotam Ottolenghi from NYT Cooking
Ingredients:
For the Tomato Dressing:
8 ounces/225 grams datterini or cherry tomatoes
7 tablespoons olive oil
4 garlic cloves, peeled and thinly sliced
1 teaspoon white miso
3 fresh bay leaves
9 cardamom pods, shells reserved and seeds roughly crushed in a mortar and pestle
¼ teaspoon sweet paprika or Kashmiri chile powder
Fine sea salt and black pepper
1 tablespoon lime juice
For the Cucumbers:
1 ¼ pounds/565 grams large Persian cucumbers
1 tablespoon olive oil
Fine sea salt and black pepper
¼ cup fresh cilantro leaves and soft stems
1 small ball buffalo mozzarella (about 4 1/2 ounces/125 grams), roughly torn
Method:
Start with the dressing: Add the tomatoes, oil, garlic, miso, bay leaves, cardamom shells and seeds, paprika and a heaping ¼ teaspoon salt to a large (lidded) sauté pan. Place over medium-high heat, give everything a good stir and leave it, uncovered, until it starts to bubble gently.
Once bubbling, turn the heat down to medium-low, cover with the lid and cook gently for 15 minutes, stirring once, until the tomatoes have burst and start to release their juices. Turn down the heat if necessary; you want the garlic to soften without taking on color, and you want the tomatoes to not completely disintegrate. Stir in the lime juice and set aside.
Heat a grill pan over high, and ventilate your kitchen well.
Halve the cucumbers lengthwise then use a small spoon to scrape out and discard the seeds. Slice each halved cucumber lengthwise into 2 equal pieces, then transfer the cucumber quarters to a bowl and toss with the oil, ½ teaspoon salt and a good grind of pepper. When the grill pan is very hot, grill them in batches, cut sides down, for 2 to 3 minutes, then flip them over and grill for 1 to 2 minutes more. You want nice grill marks and for the cucumbers to soften but still retain a bite. (You don't want any floppy cucumbers.) As they're ready, immediately transfer to the tomato pan, stirring to coat in the dressing.
Once they're all grilled, stir the cilantro into the pan and transfer the mixture to a large serving platter with a lip. Sprinkle on the torn mozzarella, along with a good pinch of salt, and tuck the cheese under the cucumbers in places. You can serve this dish hot or at room temperature.
MORE RECIPES:
Classic Cucumber and Tomato Salad