Cilantro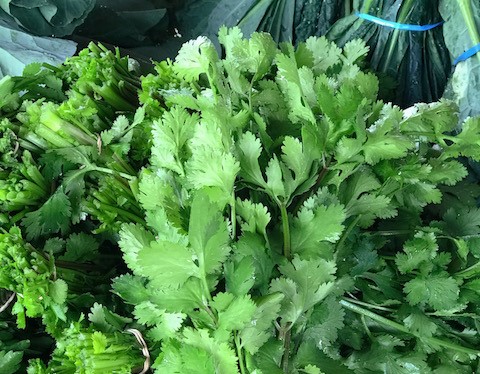 Credit: Thadah Wah
Cilantro is a great addition to taco night with crispy radishes or turnips and fresh cilantro. Don't like eating cilantro straight up in your tacos? Try making a sauce: chimichurri, zhoug, or Mexican Green Goddess. These sauces will easily use your whole bunch of cilantro and will keep in a jar in your fridge to use with meals throughout the week. Make an herb butter to freeze and use as seasoning throughout the winter. Or simply pick the leaves off the stems and give them a rough chop before tossing with roasted vegetables or grain salads.

STORAGE: Store cilantro in a jar of water in the fridge with a loose bag over the top.
RECIPE: Zhug (Middle Eastern spicy cilantro sauce) adapted from Ottonlenghi's "Jerusalem"
Makes about 1 cup

This sauce is believed to have health benefits for the immune system and stomach. Feel free to adjust the amount of herbs and chiles you use in this recipe. If you love parsley but not cilantro, use less cilantro and vice versa. Or just use cilantro if you don't have parsley. If you don't love spice, then use less chile.

This sauce is great with pretty much anything from grilled meats to eggs to roasted cauliflower to a dollop in a brothy soup. Or just put it on toast with some feta.
Ingredients:
1 bunch cilantro (leaves and stems), coarsely chopped
1 bunch parsley (leaves and stems), coarsely chopped
2 hot green chiles, coarsely chopped (adjust based on how spicy you want this)
1/2 tsp ground cumin
1/4 tsp ground cardamom
1/4 tsp ground cloves
1/8 tsp sugar
1/4 tsp salt
1 clove garlic, crushed into a paste
2 tbsp olive oil
2 tbsp water
Method:
Place all the ingredients in a food processor. Blitz in a few pulses to get a coarse paste. Make sure not to over mix (you want it to stay coarse). Store it in the fridge for up to 3 weeks.