Cherry Tomatoes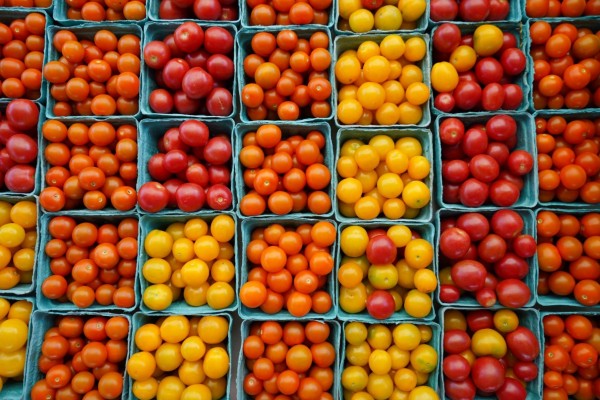 Photo credit: Thadah Wah
At TTCF, farmers grow several varieties of cherry tomatoes in their unheated hoop houses. Sungolds are the earliest variety and are the harbingers of summer. They are arguably the sweetest and most beloved variety the farmers grow. Other cherry tomato varieties grown at TTCF include the dark pink Sun Peach tomatoes and the sweet yellow Esterina tomatoes along with the slightly larger, striped Sunrise Bumblebee and Pink Bumblebee tomatoes.
STORAGE: Tomatoes of all kinds hold their flavors best when stored on the counter at room temperature. If you (like most of us) want tomatoes year-round, they're also great canned or blanched and frozen.
Summer Pasta with Corn and Cherry Tomatoes
(Adapted from Anne Burrell of the Food Network)
Ingredients:
Extra virgin olive oil
3-4 garlic cloves, smashed
Generous pinch of crushed red pepper flakes
1-2 pints cherry tomatoes
1 ½ cup vegetable stock
2 ears of sweet corn, kernels cut off the cob
½ lb gemelli pasta (or other desired style of pasta)
½ cup fresh grated parmesan cheese
6 basil leaves, chiffonade, plus more for garnish
Method:
Bring a large pot of well-salted water to a boil. Cook pasta according to directions on box. Before draining pasta, reserve ½ cup pasta water.
Coat a large sauté pan with olive oil and add the garlic and the crushed red pepper. Bring the pan to a medium-high heat. When the garlic has turned a lovely golden brown color, remove it and discard.
Add the cherry tomatoes and half the stock and season with salt. Simmer the pan until the tomatoes have wilted and let off their juices. Add the corn and the remaining stock and simmer until the corn is cooked through.
Add pasta to the sauté pan with the tomatoes and corn. Add the reserved ½ cup of the pasta cooking water and cook until the water has evaporated and the sauce clings to the pasta.
Toss in the Parmesan, basil and a big drizzle of high quality extra-virgin olive oil. Stir or toss the pasta vigorously. Divide the pasta onto plates, sprinkle with a little more grated Parmesan and basil. Serve immediately.