Carrots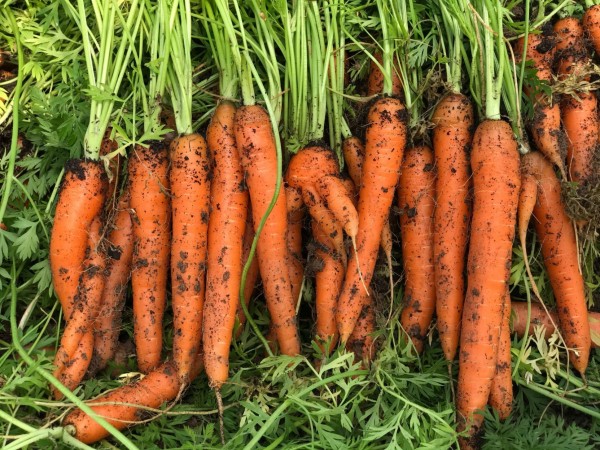 Photo credit: Thadah Wah
Carrots tend to be one of the most popular items at TTCF farmers' market stands, especially in winter when the frosty temperatures sweeten these crunchy roots. Enjoy them fresh on salads, as a healthy snack dipped in hummus, or roasted for a warming winter side dish. No matter how you prepare them, carrots will yield of full dose of healthy benefits like vitamin A, beta-carotene, fiber, and calcium!
STORAGE: Cut off all the greens from the carrots before storing them. Store the greens separately in a plastic bag if you plan to use them for making a broth, sauce, etc. Store the roots in a single layer in an open plastic bag in the crisper drawer of your refrigerator for up to a month. Use the smallest roots first. If the carrots become soft, you can restore their crispness by storing them in a container of water in the refrigerator for a few hours or overnight. Some people recommend that to maintain maximum crispness, carrots can be stored in a container of water in the refrigerator from the beginning, changing the water every few days (or if it starts to look cloudy). Carrots, like other cool-weather crops, are sweetest in the winter after being exposed to frost.
RECIPE: Cumin Glazed Carrots (serves 4)
Ingredients:
1 lb carrots, cut diagonally into 1/2"-thick slices
2 Tbsp olive oil
3/4 tsp ground cumin
1 cup water
1 Tbsp fresh lemon juice
1 tsp honey
1/2 tsp kosher salt
1/8 tsp black pepper
Method:
Cook carrots with oil and cumin in a 3 quart heavy saucepan over medium heat, stirring until well coated-- about 1 minute.
Add remaining ingredients and simmer for about 20 minutes, uncovered, shaking occasionally, until liquid is evaporated and carrots are tender and glazed.
Serve warm or at room temperature.
RECIPE: Noodles with a Sauce of Carrot Tops, Radish Greens and Yogurt
Ingredients:
1 bunch of spinach (about 4 cups packed loose leaves)
Tops from 1 or 2 bunches of carrots, leaves stripped from stems
Leaves from 1 bunch of radishes
1 small bunch of cilantro, stems included, chopped (about 1 cup)
a handful of dill
4 lovage or celery leaves
1 cup whole-milk yogurt or sour cream
1 T. olive oil
1 jalapeno chile, seeded and chopped
1/4 white onion, thinly sliced
sea salt
3/4 pound spaghetti or linguine
1/2 c. pine nuts
crumbled feta or Manouri cheese
**Variation: In place of feta and pine nuts, halve a pint of cherry tomatoes, toss them with minced jalepeno, cilantro and a little lime juice and set them aside to come to room temperature while you make the dish. Spoon them over the pasta just before serving.
Method:

1. Sort through the greens and discard any funky-looking leaves. Wash and chop them coarsely. Pour the yogurt into a fine-mesh strainer or cheesecloth to drain. Heat a large pot of salted water for the pasta.

2. Heat the oil in a wide nonstick skillet. Add the jalapeño and onion and cook over medium heat, stirring occasionally, for a few minutes or until the onion turns translucent. Next rinse the greens and herbs and add them to the skillet with the water clinging to their leaves. Sprinkle with 1 teaspon salt and cook until wilted, turning them with a pair of tongs after 3 or 4 minutes. Puree with the drained yogurt, then transfer the mixture to a large skillet. Turn the heat on low to warm the yogurt. Don't get it too hot or it will curdle.

3. Cook the pasta in the salted water until al dente, then drain. While it is cooking, toast the pine nuts in a small skillet until golden. Add the pasta to the sauce, toss well, and salt to taste. Scatter the cheese and pine nuts over the top.