Brussels Sprouts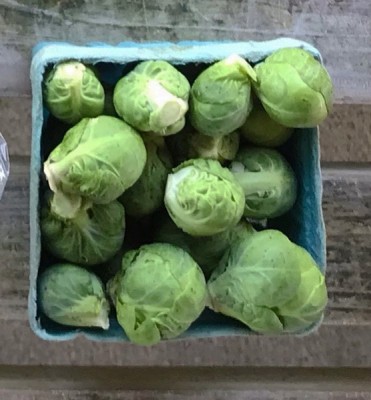 Photo credit: Thadah Wah
Brussels sprouts resemble small cabbages, which makes sense because they are part of the Brassica family of plants, which includes cabbage, kale, and broccoli. They grow on a tall stalk and are one of the few plants that remains in TTCF's fields uncovered throughout the winter months. The below freezing temperatures of winter make brussels sprouts all the more delicious and sweet because the plants convert their starches into sugar to protect themselves from freezing. They are notoriously difficult to grow organically and the seeds must be started in midsummer for a winter harvest. Brussels sprouts are highly nutritious and are especially rich in vitamin K, which is important for bone health. The easiest way to cook brussels sprouts is to cut off the tough ends, halve or quarter them, toss them in a generous amount of olive oil and salt, and roast them in a 400˚ oven until they are just fork tender, stirring them about halfway through cooking so they cook evenly. The slightly caramelized, crispy leaves are the best part!
STORAGE: Store unwashed, untrimmed brussels sprouts in a plastic bag in the crisper drawer of your refrigerator. Stored this way, brussels sprouts should keep for at least a week, if not longer. Note, however, that the flavor will become less sweet and stronger with time, so eating them within a few days of bringing them home will yield the best flavor.
RECIPE: Crispy Roasted Brussel Sprouts and Shallots
Ingredients:
2 pounds brussels sprouts, trimmed and sliced 1/4-inch thick
3 shallots, sliced 1/4-inch thick (about 1 cup)
½ cup extra-virgin olive oil
1 teaspoon kosher salt, plus more to taste
8 thyme sprigs
2 garlic cloves, finely grated or minced
1 tablespoon Worcestershire sauce, plus more to taste
1 ½ teaspoons fresh lemon juice (from 1/2 lemon), plus more to taste
Grated Parmesan, for serving (optional)
Method:
Heat oven to 450 degrees. In a medium bowl, toss together brussels sprouts, shallots, olive oil and salt. Evenly divide brussels sprouts mixture between two rimmed 13-by-18-inch baking sheets, spreading everything into one layer. Top with thyme sprigs.
Roast, stirring once, until brussels sprouts and shallots are tender, golden and lightly charred in spots, 20 to 25 minutes.
Meanwhile, in a small bowl, mix together garlic, Worcestershire and lemon juice.
As soon as brussels sprouts emerge from oven, immediately drizzle with Worcestershire dressing, tossing to combine.
Taste and add more salt, lemon juice, or Worcestershire if needed. Top with grated Parmesan if you like and serve immediately.
RECIPE: Hashed Brussels Sprouts with Lemon
Ingredients:
2 tablespoons freshly squeezed lemon juice, more to taste
Grated zest of 1 lemon
2 to 3 pounds brussels sprouts
2 tablespoons olive oil
2 tablespoons butter
3 garlic cloves, minced
2 tablespoons black mustard seeds, cumin seeds, or poppy seeds
¼ cup dry white wine or vermouth
Salt and pepper to taste
Method:
Place lemon juice in a large bowl. Cut bottoms off sprouts, and discard. Working in batches, use a food processor fitted with the slicing blade to cut sprouts into thin slices. (If cutting by hand, halve sprouts lengthwise, and thinly slice them crosswise. The slices toward the stem end should be thinner, to help pieces cook evenly.) As you work, transfer slices into bowl with lemon juice. When all sprouts are sliced, toss them in juice and use your fingers to separate leaves. (Recipe can be prepared to this point and refrigerated, covered, for up to 3 hours.)
When ready to serve, heat oil and butter over high heat in a skillet large enough to hold all sprouts. When very hot, add sprouts, garlic and seeds, and cook, stirring often, until sprouts are wilted and lightly cooked, but still bright green and crisp, about 4 minutes. Some leaves may brown slightly.
Add wine and sprinkle with salt and pepper. Cook, stirring, 1 minute more. Turn off heat, add salt and pepper to taste, and more lemon juice if desired. Stir in the lemon zest, reserving a little for top of dish. Transfer to a serving bowl, sprinkle with remaining zest and serve.
MORE RECIPES:
Oven Roasted Brussels Sprouts with Parmesan and Balsamic Glaze